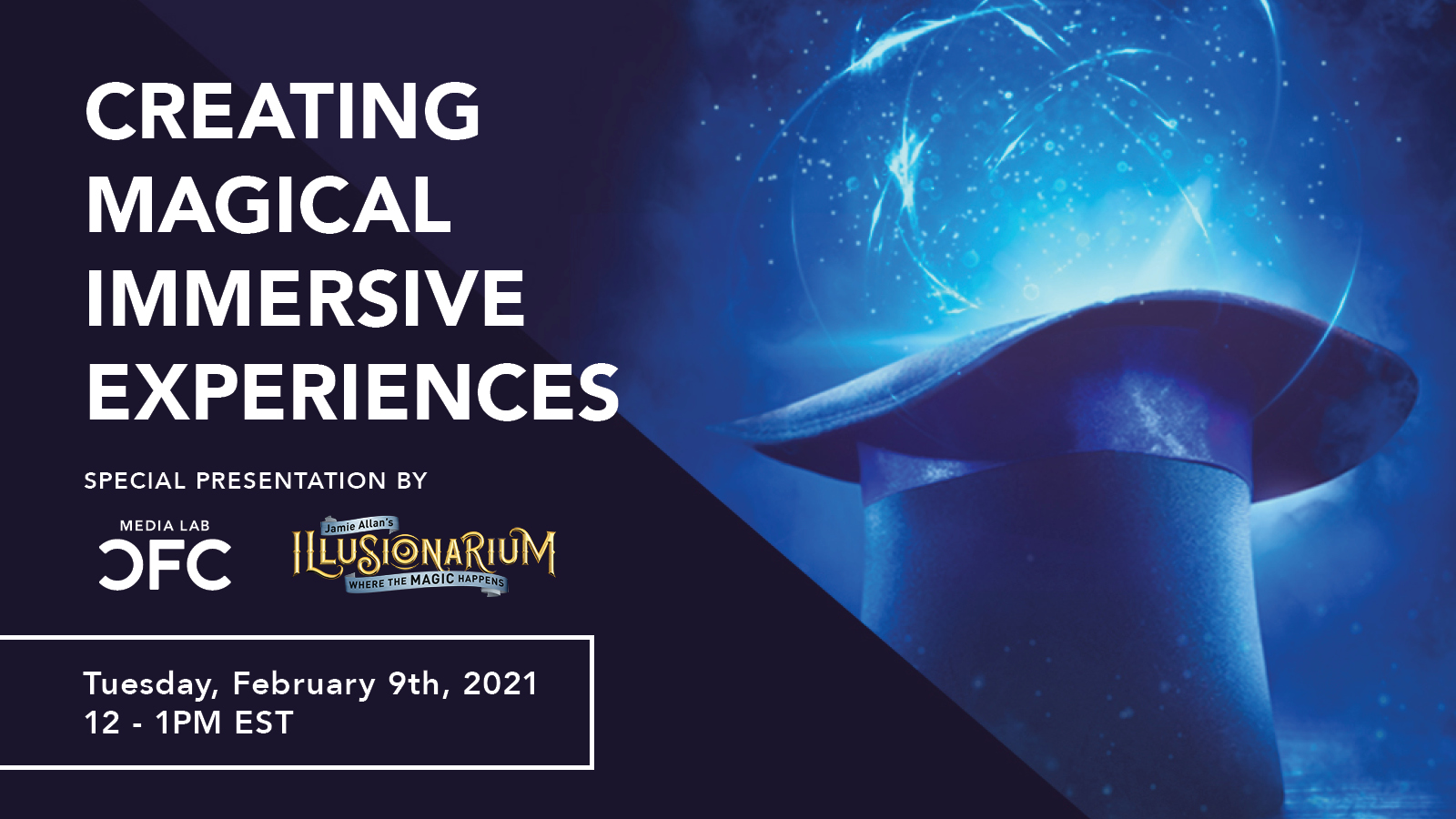 Discover how immersive media creators can benefit from the insights of magicians in building virtual and mixed reality illusions. Magician Jamie Allan, creator of Jamie Allan's Illusionarium, shares the thinking behind the magic that influences unforgettable story experiences. Next, hear from a panel of leading minds in location based entertainment on how immersive media has the power to create magical moments for audiences.
Speakers

Corey Ross
President Starvox Entertainment and Lighthouse Immersive Inc.

Founded in Toronto in 2003 by Corey Ross, Starvox Entertainment has ranked in Profit Magazine's Fastest growing Canadian companies for 5 years in a row. Starvox produces, manages, represents and promotes cross-over performing arts shows and exhibitions that tour Canada, the United States, and internationally. Mr. Ross has produced multiple theatrical shows in Chicago including the Harry Potter parody Potted Potter, Evil Dead the Musical, Champions of Magic, and Sherlock Holmes. In Las Vegas Mr. Ross produces three shows for Caesars Entertainment—Wow, Extravagnza and Potted Potter. In the world of art exhibitions Mr. Ross produces the Art of Banksy in London, Canada, the USA, as well as Immersive Van Gogh and Illusionarium in Toronto.

Dan Fill
President, Dark Slope Studios

Dan Fill is the President of Dark Slope Studios - the entertainment division of Dark Slope. In this role, he oversees the creative development and production of motion capture and facial tracking content across animated entertainment, video games as well as experiential interactive projects. Throughout his career, Dan's has been hyper focused on leveraging innovative technology to enhance great storytelling. He has worked on dozens of high-profile projects with partners including The Jim Henson Company, Aardman Entertainment, iTV, Viacom, BBC, CBC and Turner. Prior to Dark Slope he was the Head of Multiplatform for the Australian Broadcasting Corporation where he was named the country's top Digital Innovator for his role in commissioning Australia's leading streaming service ABC iView. ABC iView now accounts for over 900 million streams a year. Previous to ABC, Dan was the Vice President of Interactive for Decode Entertainment (now Wildbrain) where Dan built an award-winning internal studio.

Emma Lopez
Creative Director / Partner, AVA Animation & Visual Arts

Emma López Hechem is an award-winning Creative Director and founding partner of AVA Animation & Visual Arts that specializes in Projection Design. Originally from Mexico, she graduated with honours from both the Visual Effects for Cinema and Television and the Interactive Media Design postgraduate programs at Seneca College of Applied Arts and Technology in Toronto, Canada. She is a member of the First Cohort of the #FifthWave Initiative by the Canadian Film Centre for women led businesses, with more than 14 years of professional experience, she has worked creating graphics and animation for renowned animation and post-production studios in Canada and abroad. Together with her partner Pedro Narvaez founded AVA Animation and Visual Arts in 2010, pioneering the international field of Architectural Projection Mapping for live events. Ever since they have created award winning works and installations for Mexico, Japan, Switzerland, Spain, United States, U.A.E., Lebanon, Armenia, Romania, Chile, Russia and Canada.

Jamie Allan
Creator, Jamie Allan's Illusionarium

Jamie Allan is world renown for fusing magic with high technology. As the UK's original technology magician, he premiered his iMagic creation on ITV's This Morning in 1995 when he was just a teenager. Since then he has been performing and designing incredible modern illusions using leading edge technology and innovative methods including iPads, holograms, laser beams, 3D video mapping and interactive social media to engage and amaze his audiences. He also holds the accolade of being the most televised British illusionist of the last decade.

Jamie Allan is THE iMagician. Jamie performed his signature iPad illusion "Digital Art" to close the BBC One Show live to millions of viewers, an illusion he repeated Live on 'Grand Cabaret Du Monde', 'BBC Breakfast', 'The Slammer' and the 'Penn and Teller: Fool Us' television series. He has been seen as a star mentor on the ITV1 prime time show 'Get Your Act Together'. He appeared as the special guest star on 'Michael McIntyre's Big Show'. He was a winner of ITV prime time show 'The Next Great Magician.' In 2017, he was chosen by his peers to headline the world's largest magic convention in front of 3,500 magicians. Jamie's magic is so unique he is the first magician to ever be given the honor of performing the entire second act of the show solo. In the same year, he was bestowed the highest honour of The Magic Circle; invited by the President, he became one of the very few members of The Inner Magic Circle. Jamie joined the ranks of Harry Houdini, David Copperfield and Derren Brown in this exclusive, internationally acclaimed and historic society. Jamie's show iMagician debuted in the United States in 2018 becoming the highest selling magic show ever in the history of Chicago theatre district during his residency at the 1,500 seat Harris Theatre.
Moderator

Laura Mingail
Founder, Archetypes & Effects

Laura Mingail founded Archetypes & Effects to help to bring to life the stories and story experiences that entertain and evolve audiences, and industries. She applies insight into storytelling, audiences, new technologies and magic to support content creators with product, marketing and communications strategy.

Laura also focuses on the creation and monetization of emerging forms of storytelling and technologies in her talks, media contributions and articles. She presents at leading events such as AI World Forum (Canada), Augmented World Expo (USA), Guanajuato International Film Festival (Mexico), Series Mania (France), SXSW (USA), World VR Forum (Switzerland). And, she contributes to the evolution of the marketing and entertainment industries as an Advisory Board Member for SXSW, and Board Member for the Toronto Ring of the International Brotherhood of Magicians. During the pandemic, Laura created Magicians in VR - the first live magic show in virtual reality, in history.